Skiing in Colorado: The Best Resorts to Visit in Summit County
Looking to take a winter ski trip with family and friends? The beautiful state of Colorado offers many of the world's top ski resorts and best vacation towns. There are six main mountain towns in the Summit County metro including Breckenridge, Copper Mountain, Frisco, Keystone, Dillon, and Silverthorne. Let's dive into each resort so you can choose your top picks. 
Skiing and Snowboarding in Breckenridge, Copper Mountain, Frisco, Keystone, Dillon, Silverthorne: 
First up, Breckenridge Ski Resort. Whether you want to stay near the Dillon or Silverthorn Area, Breckenridge should be at the top of your list. Attracting more than 3 million people each year, this world-renown resort has family-friendly terrain and many advanced slopes for expert skiers and snowboarders. Breckenridge also offers the tallest peak in North America, Atop Peak 8, which is just shy of 13,000 feet in the beautiful Rocky Mountains. This highly regarded mountain has unsurpassed terrain and is a lively town filled with over 200 restaurants and shops.   
Browse Silverthorne Vacation Rentals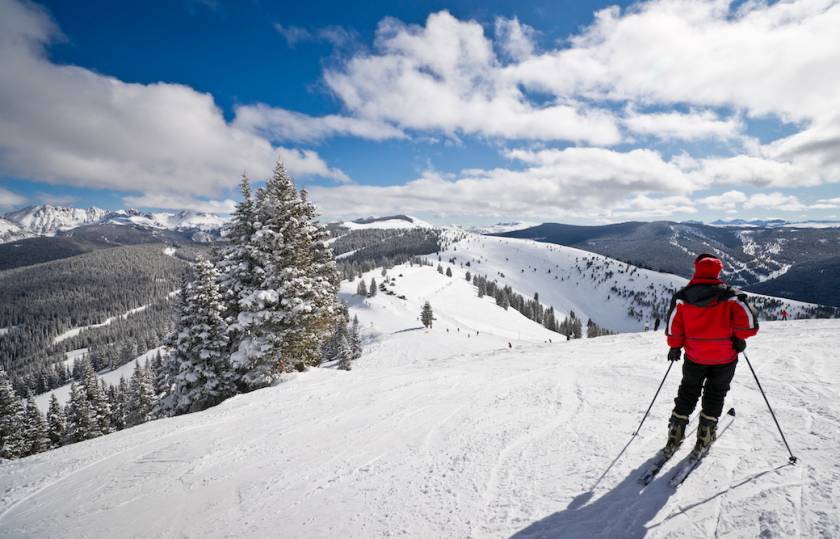 Another resort with world-class slopes, Copper Mountain is the perfect place for those who are seeking an unforgettable winter adventure. Enjoy some of the best views in Summit County while you spend your day at the ski resort. The mountain is about 75 miles away from Denver, right in the heart of the Rockies. Copper Mountain offers options for all levels, including upper elevations of 12,000+ for advanced and expert levels, and many slopes on the lower mountain for beginner and intermediate levels. For those who don't ski or snowboard, the village at Copper Mountain has plenty of restaurants, shopping, and fun activities.  
Browse Copper Mountain Vacation Rentals 
If you're looking for a ski resort to enjoy with your children or first-time skiers, Frisco Adventure Park is the perfect place. This resort offers much smaller ski hills for beginners that are not very crowded, making it a great option for those who are looking to learn. 
Browse Frisco Vacation Rentals 
Close to Breckenridge, Keystone Resort is also a great option if you are staying in the Dillon or Silverthorne Area. This ski resort has the largest amount of terrain in the county. It consists of three skiable mountains including Dercum Mountain, North Peak, and the Outback. If you're looking for a more laid-back ski resort to enjoy yourself with your family, this is the place to go. Although, many advanced skiers explore the summit of Dercum Mountain, where you can find expert-level runs. 
Browse Keystone Vacation Rentals and Dillon Vacation Rentals 
Known for its extended ski season (October-June and sometimes longer), Arapahoe Basin also offers some of the highest terrains in North America. With over 100+ skiable trails, many Colorado locals spend their time on this expert mountain. If you're looking for beginner and intermediate trails, you might want to skip this one on your trip!
Get Ready for Ski Season and Book Your Summit County Colorado Vacation Rental 
No matter where you are vacationing in Summit County, CO, any of these resorts will be in close proximity to your location. Choosing which resort is best for your family or friends will depend on your preferences. Each ski resort offers its own uniqueness and beauty. Either way, you're guaranteed to enjoy yourself and create memories that will last a lifetime. If you are looking for vacation rentals in Summit County and need assistance, contact us and we would be happy to help! 
Browse all Summit County Vacation Rentals