Soups for the Ski Bum Soul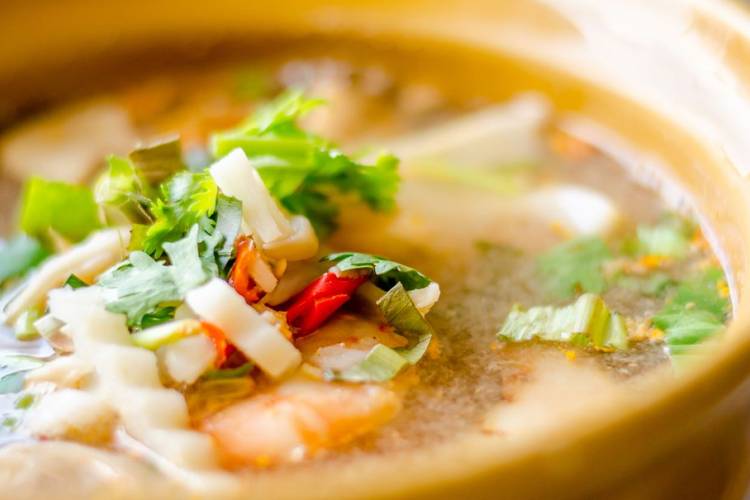 Soups for the Ski Bum Soul
If there is one thing we love about the cold weather (other than skiing and snowboarding), it's the soup! We are so excited to bring you this collection of delicious soups straight from Summit County local's home kitchens! You won't need to look any further for a cozy weather soup. 
Minestrone Soup by Jake Janoviak
"This soup comes from Italian roots. It is gluten free & vegan to satisfy all your dinner guests!" -Jake Janoviak 
INGREDIENTS
1 can White Beans
1 can Diced Tomato
7 Carrots (Sliced)
1 Head Celery
14 Mushrooms (Sliced)
½ cup Parsley
2 tbsp Garlic (granulated)
2 tbsp Kosher Salt
2 tbsp Black Pepper
2 tbsp Basil 
1 tbsp Oregano
1 ½ gallons Water
2 tbsp Veggie Base
¼ cup Oil
PROCEDURE
In a stock pot, saute carrots,celery, and mushrooms in oil for 5 minutes.

Add remaining ingredients and bring to a boil, then reduce to a simmer.

Simmer for 30 minutes

Serve & Enjoy!
Uncle Dennis's  Crock Pot Chilli by Emily Riddle 
"My Uncle Dennis's chilli will certainly warm you up after a day on the slopes. You can add saltine crackers, or as us New Englander's like to do, add oyster crackers for a crunch!" -Emily Riddle
INGREDIENTS
2 lbs beef 80/20 or 85/15.(you can sub ground turkey but no leaner than 85%.)
2 large onions
1 28oz cans diced tomatoes (Don't drain the liquid)
1 28oz ca/n tomato sauce
2 15oz dark red kidney beans (drained and washed)
1 tbsp red pepper
2 tbsp chili powder (May tweak to taste)
PROCEDURE
Sauté onions & brown the beef, then add to the crock pot.

Add tomatoes, tomato sauce, and spices

Cook on low for 2-3 hours then add beans and serve

Bon Appetit!
Scooter's Own Pheasant White Chili by Matt Scheer
"If you don't have a bird dog like Scooter and a shotgun, just grab a couple cornish game hens or any poultry from the store.  Scooter's Own Pheasant White Chili is a very easy 2-step recipe best made in a crockpot." - Matt Scheer
INGREDIENTS
1-2 lbs pheasant, game hen, or poultry - bone-in or bone-out, skin-on or skin-off
2 Cans Cream of Mushroom Soup
32oz Chicken Broth
2 Cans Diced Green Chilies
2-3 Fresh Serrano Peppers, de-seeded, diced
1 medium onion chopped
2-3 cloves garlic chopped
1 Can Great Northern Beans
2 Cans Butter Beans
1 Can Garbanzo Beans
1 Can Black Beans
1 Chicken Gravy packet
 1 tsp Cumin
Chili Powder (to taste)
Salt & Pepper (to taste)
Garnish (tortilla chips, sour cream, shredded cheese)
PROCEDURE
Pour 1 can cream of mushroom soup into a crockpot.  Cut your bird into manageable portions leaving bones and skin on for now.  Add to the crock pot, then pour a 2nd can of cream of mushroom soup over the top.  Set the crockpot on low and go skiing!  After your meat has reached an internal temperature of 165 degrees, remove the meat and place it on a large cutting board.  For game meat, you'll need to use your fingers.  Pull apart the pieces, carefully taking everything out of the meat that you don't want to eat (birdshot, bones, tendons, skin).  If you're using chicken breasts, this can be done with tongs and a fork.

Discard the cream of mushroom soup remaining in the crockpot.  Clean the crockpot.  Add the broth, pulled meat, beans (drained), onion, garlic, peppers, chilies, gravy packet and seasonings.  Set the crockpot on low and go skiing again!  Cook just a couple hours, or simmer overnight.  Season to taste, garnish, serve and enjoy!
Pork Posole by Terry Duckworth-Mills
"Slow-After a full day of playing in the snow, there's nothing better than a hearty soup and slow Cooker Pork Posole is my favorite!!  Throw everything in the crock pot before hitting the pow pow and by the time you get off the slopes and out of your gear, it's ready and waiting for you!" - Terry Duckworth-Mills
INGREDIENTS
2 ½ pounds Boneless Country Pork Ribs (or pork butt)
salt and pepper
3 teaspoons vegetable oil, divided
1 large onion, chopped
6 medium garlic cloves, minced
1 ½ tablespoons chili powder
1 teaspoon ground cumin
2 teaspoons dried Mexican oregano
3 chipotle peppers in adobo sauce, minced
2 (15-ounce) cans white or yellow hominy, drained (do not rinse)
3 cups low sodium chicken broth
1 bay leaf
1 (14.5 ounce) can diced fire roasted tomatoes with juice
Juice of 1 lime
PROCEDURE
Trim any visible fat from the pork and cut into 1-inch pieces. Season with salt and pepper. Heat 1 teaspoon of vegetable oil in a large nonstick skillet over medium-high heat. Add half the pork pieces to the pan and cook until browned, about 8-10 minutes. Add the browned pork to the slow cooker. Add another teaspoon of oil to the pan and once shimmering, brown the remaining pork. Remove to the slow cooker.

Reduce the heat to medium and add the last teaspoon of oil to the pan. Once heated add the chopped onions. Sauté the onions until softened and browned, about 5 minutes. Add the garlic, chili powder, cumin and oregano to the onions. Stir and cook until fragrant, about 1 minute. Add the onion and garlic mixture to the slow cooker.

Add the minced chipotle peppers with adobo sauce, hominy, chicken broth, bay leaf and fire roasted canned tomatoes to the slow cooker. Stir to combine. Cover and cook until the pork is very tender, about 6 to 7 hours on high or 7 to 8 on low.

Turn off the slow cooker and remove the bay leaf. Skim any fat from the surface of the soup. Season with salt and pepper to taste and add the juice of 1 lime. Serve with your favorite toppings.
Serving Suggestions:
Cilantro

Lime wedges

Hot sauce

Shredded cheese or Cotija cheese crumbled

Sliced radishes

Diced avocado

Red onions minced

Red pepper flakes

Chips or corn tortillas
LENTIL SOUP: THE BEST SKI BREAKFAST OR APRES SKI WARMER By Robert Cartelli 
"This soup is inexpensive and easy to prepare. All ingredients and amounts are negotiable. Ultimately, as long as the lentils are cooked to your satisfaction and the consistency of the soup is to your liking, you will be in for a hearty treat.A monster bowl before the lifts start spinning will easily keep you going until early afternoon." - Robert Cartelli 
INGREDIENTS
¼ Cup Extra Virgin Olive Oil (enough to cover the bottom of 7-quart pot)
1 Medium-Large Sweet Yellow Onion, Chopped (about 2 cups)
2-3 Carrots, Peeled, Chopped (about 1 ¼ cups)
2-3 Stalks Celery, Chopped (about 1 ¼ cups)
3 Cloves Garlic, Minced
Pinch Red Pepper Flakes
1 Teaspoon Dried Oregano
1 Teaspoon Dried Basil
2 Bay Leaf
2 Teaspoon Freshly Ground Black Pepper, Adjust to Taste
1 Teaspoon Freshly Ground Sea Salt, Adjust to Taste
16 Bag Dried Green Lentils, Rinsed
8 Cup Vegetable Broth (two 32-ounce cartons)
1 28-Ounce Can Crushed Tomatoes 
2 Cup Chopped/Torn Fresh Spinach
PROCEDURE
Heat (Medium-low) ¼ Cup Extra Virgin Olive Oil In a Large Pot
Add Vegetables
Onion, Carrots, Celery
Cook for about 10 minutes
Add Garlic
Cook for 2 More Minutes
Add All Remaining Ingredients (except spinach)
Increase Heat - Bring to Simmer.
Place Lid on Pot and Turn Heat Down to Low
Simmer for About 45-60 Minutes, or Until Lentils are Desired Softness
Add Spinach 10 Minutes Before Done
Serving Suggestions
Grated Parmesan Cheese

More Freshly Ground Black Pepper

Garnish with Chopped Fresh or Dried Parsley

Warm Crusty Bread