SUMMIT COUNTY'S 4 BEST RESTAURANTS WITH OUTDOOR PATIOS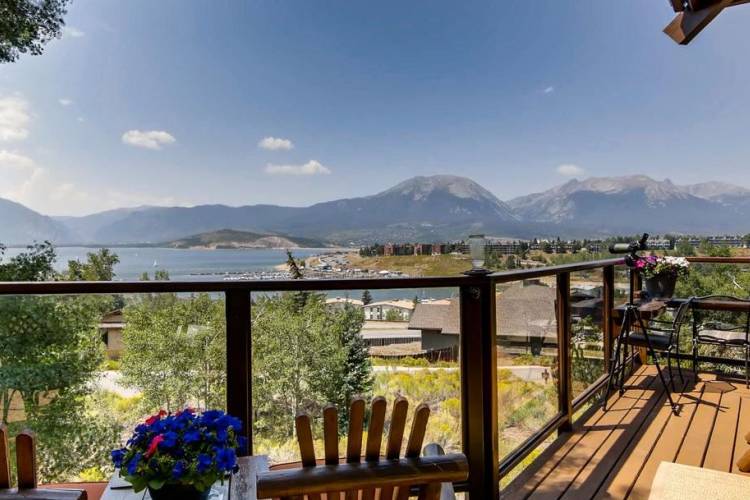 No matter what you're looking to munch on, the dining scene in Summit County has exploded in recent years due to the area's growing beer scene. With the snow melted, the air warmed, and stay-at-home restrictions finally lifted, outdoor patios have opened and now – more than ever – is the perfect time to discover them. Explore Summit County's growing restaurant scene this summer with our top 4 outdoor patios, all with gorgeous views, great drinks, and mouth-watering food that will have you coming back for more.
---
PUG RYAN'S LAKESIDE TIKI BAR
What's summer without the beach, right? Pug Ryan's Lakeside Tiki Bar is the highest tiki bar in the United States at 9,000 feet, but you'll feel right at the beach with their tropical drinks served in coconuts and freshly brewed craft beer. Located on the Dillion Marina, this outdoor patio is right on the bay with stunning mountain views and fresh air. The food menu is typical of most bars with burgers, tacos, and chicken tenders, but their world-famous "rum runner" is what sets them apart. This isn't Pub Ryan's only outdoor venture, though. With outdoor decks and a new beer garden, this brewing company has a lot of options for some fun in the sun. Open at 11:30am daily, you can get the weekend started a little early with this choice.
---
KICKAPOO TAVERN
Named one of the best decks in Keystone, Kickapoo Tavern offers a bar and grill atmosphere perfect for friends or family. Established in 1995, this friendly, relaxed restaurant is conveniently located in River Run Village. Its affordable and diverse menu offers sandwiches, soups, salads, Mexican fare, appetizers, and more – with all of the food prepared from scratch. Its large outdoor patio offers gorgeous views of the North Form Snake River, and an everyday happy hour from 3:00pm-6:00pm makes this choice irresistible. Open at 11:00am daily.
---
HIGHSIDE BREWING
One of Summit County's newest patios options, Highside Brewing offers a daily line-up of live music among its 16 different taps. Looking to create a hub for "locals and travelers alike," this two-story brewery is nestled on Frisco's Main Street and offers scenic views of the surrounding mountain range. Partnering with BBQ veteran, Matt Mojciechowski, Highside Brewing specializes in pairing BBQ and beer. Sourcing their meat from Harris Ranch in California, a local farm in Eastern Colorado, they strive to smoke the best grade meat they can get. Beware if you peruse their website – the pictures are truly mouthwatering. Open at 11:00am daily.
---
ROBBIE'S TAVERN
Locally owned and operated, Robbie's Tavern is a slope-side bistro within the Grand Colorado Resort in Breckenridge, offering a "refined twist on American comfort food, paired with world-class wine." This patio is a highly coveted spot for people watching on the slopes, and has three fire tables and an open-air bar. You can take a scenic ride from the town on a gondola to Robbie's Tavern, or you can drive to it from Ski Hill Road. Whatever option you choose, the route is gorgeous and the upscale food waiting for you is even better. With a nearly perfect rating on Yelp and TripAdvisor, you won't be disappointed on this patio. Serving breakfast, lunch, and dinner daily.
Every day is a vacation in Summit County, especially when you pick the perfect patio to lounge on this summer. With PMI Summit Colorado, the day-to-day management of your short-term or residential Summit County rental property could feel like a vacation, too. Contact us today at (970) 368-3130 or info@pmisummitcolorado.com to discuss your real estate needs, so that you can be spending more time on Summit County's gorgeous outdoor patios!